Welcome to the LC's KEYFINDERS website!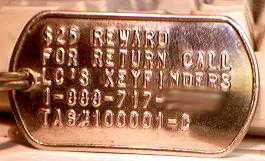 "Dog Tags for your keys"
"get them back FAST!"
Custom Corporate / Manufacturer / Government plans
As a larger business you have two major areas of concern which we can help you with. Primarily there is your security and access control. We are prepared to assign a special number for your company with any number (limited to space on tag) of sub-numbers. This plan would permit you to assign tags to all company owned keys and/or your employees personal keys.
We will maintain a record for each separate tag and each user will be able to log into the account for that tag and maintain contact information as it changes (different extensions, addresses, etc.).
If you are a manufacturer (of almost anything of value laptops, cam-corders, briefcases, etc.**see below**) we can enter into an agreement whereby during the manufacturing process, you can indelibly mark your product with an appropriate text, the toll-free number, and a serial number of a format we agree to. Then you can give the customers with their documentation an instruction card which would direct them to the LC'S KEYFINDERS site where they can register their item. We could negotiate a nominal fee for each unit you produce and mark or the customer could be charged a nominal fee upon signup. Your company could actually make money if we agree to charge the customer upon sign-up we can split that fee or we could give you a commission. The possibilities are endless!
If you are a government agency (city, county, state, federal or other) we can work together to come up with a protection plan to meet your specific needs.
I would be very interested in assisting anyone in implementing one of the above programs or another kind of custom program to fill your needs. Please contact me by e-mail below with your requirements/requests and I will evaluate your needs and provide you a specific proposal.
Thanks and have a GREAT DAY!
Charley
** just a few ideas of the items that can be protected: keys, back-packs, gym bags, briefcases, cameras, tape recorders, keys, CD-players, boom boxes, notebook computers, palm-pilots, tool boxes, wallets, check books, tackle boxes, purses, "fanny" packs, lunch boxes, classified hard disks ("Hello Energy Department?" haha!), bicycles, helmets, keys
PUBLIC SERVICE ANNOUNCEMENTS:
1. SECURE YOUR COMPUTER!
Your personal (or business) computer MAY be being attacked at this very moment and you may not even be aware of it - until its too late. Please review the information at www.keyfinders.net/security/secure.htm and protect yourself!
2. AVOID X.COM!
CHEAP LONG DISTANCE AVAILABLE!
If you are interested in long distance service as low as 2.9c/min with no monthly charge please click on this link: http://ld.net?sokotacomm or http://www.cognigen.net/iphone/?sokotacomm